Divorce is frustrating, confusing, time consuming, draining both mentally, emotionally and financially
Our approach to Divorce Planning:
At InSight®, our CFP® professionals help advise clients on investment management, retirement planning, tax planning, insurance planning, estate planning, and education planning. While this work is foundational to any client relationship, we felt we could give some of our clients that are going through a divorce or have been through a divorce more.
As a CERTIFIED FINANCIAL PLANNER™ and Certified Divorce Financial Analyst (CDFA®), we're able to help clients avoid long-term financial pitfalls related to separations. Clients find that by working with someone that has expertise in both fields, they can better understand the long-term effects of a settlement before it's finalized. 
A comprehensive financial analysis conducted early in the divorce process can save time, and put you in a better position to to get a financial plan on your own terms. With the average length of divorce being one year, saving time is a big help. A CDFA® professional at InSight® can explain all the financial aspects of pending decisions and help to empower our clients to make educated decisions throughout the proceedings. 
Our CDFA® professionals can help save our clients money during the divorce process. We do this by educating our clients and providing a thorough knowledgeable understanding of the complicated financial decisions that come with a divorce. When legal settlements go back and forth between attorneys without a clear understanding of all the financial ramifications is time-consuming and expensive. 
A CDFA® professional will help you avoid long-term financial pitfalls related to divorce agreements. When working with a client and their attorney, a CDFA® can forecast the long-term effects of the divorce settlement. This includes details of all tax liabilities, risks, and benefits. We help our clients not only take care of their immediate financial needs but their long-term retirement needs as well. 
Most importantly, financial divorce analysis helps to ensure a good, stable economic future and prevent long-term regret with financial decisions made during the divorce process.
Topics we support you on, before, during and after a divorce:
Resources for Divorce Planning clients:
All InSight Divorce Planning Articles
Divorce Planning Articles: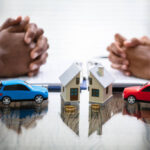 Articles
Financial problems are one of the most cited causes of divorce and crafting a Divorce Financial Plan can be your best opportunity for a new start.
Read More »
What is a Certified Divorce Financial Analyst?
The Institute for Divorce Financial Analysts is the authority on divorce planning theory and application in North America. IDFA will establish standards for certification of divorce financial analysts that are objective, reliable meet and current benchmarks for certifying bodies. The IDFA helps to ensure the financial health and welfare of the divorcing public through the certification of individuals as Certified Divorce Financial Analysts.

Our Managing Partner is a CDFA®...and that matters!
It means that from the top down our firm is trained and prepared to assist in making your divorce as beneficial as possible to your long-term outcome. Combining the client-centric ambitions of your InSight-Full® Financial Plan with the current divorce situation we are able to do more to put our clients on the best track before, during, and after their divorce. 
If you have questions about managing your assets through a Divorce...
Follow us on social media