InStep® Corporate Retirement Plan Management​
Managing your corporate retirement plan takes planning, people, and process. We built our program to be all three.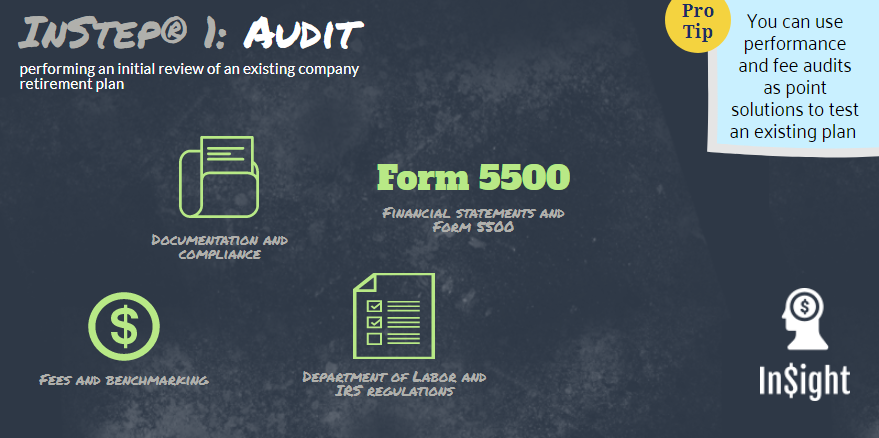 Audit
Organize
Formalize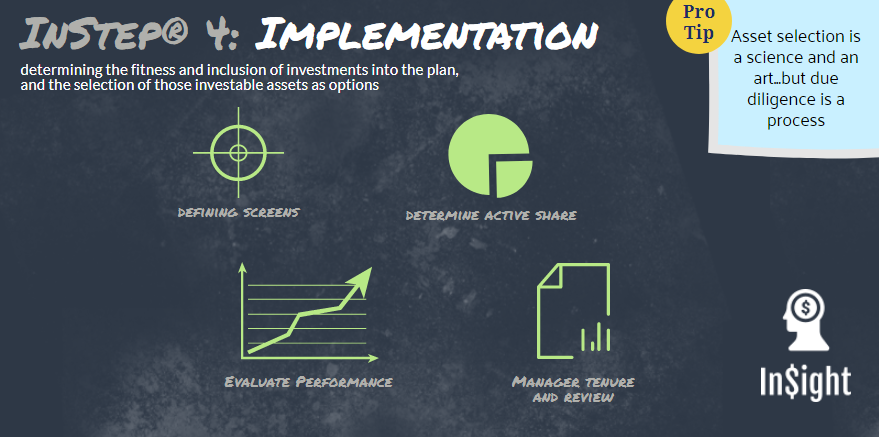 Implementation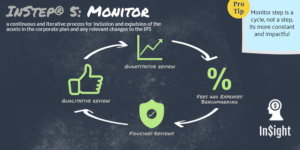 Monitor
InStep® is our  process for managing the fiduciary liability and the overall success of your corporate retirement plan. It is a 5 step process that takes clients from an initial audit of their performance and policies and helps them build a ecosystem of compliance going forward. Clients that put compliance and transparency at the center of their whole process find themselves in a better legal place and can routinely answer questions in an audit, or for their employees. 
Each step of our 5 step process is discussed at length below:
FAQs: Regarding Fiduciary Support in a 401k
Who is the investment manager in my plan?
By default, the employer would act as an Investment Manager. But in more sophisticated plans this role is routinely put with a 3rd party investment professional or insurance company for legal and efficacy reasons. Many employers have created investment committees to satisfy 3(38) requirements, but even in these cases it is recommended that you work with an AIF® professional to make sure the strictures of the IPS and Plan Document are followed.
If, however, there isn't an investment committee, then the trustee would be required to fulfill the functions of this role. If the 3(38) is outsourced, it must be outsourced to an RIA firm, bank, or insurance company.
What is the risk of not having a 3(38) fiduciary involved?
The Department of Labor doesn't require the use of a 3(38) but through an audit or, as the result of lawsuits companies find that the risk of not having one is greater than the cost of the services.  Further still, many companies find that the work and due diligence is more costly to do in-house. 
The risk associated with this role, especially as plans increase in size is a concern for many HR Executives, CFOs, and Risk Officers. Recent lawsuits have demonstrated that a large amount of the responsibility associated with the costs and performance of the 401(k) plan stem from the fund lineup, the selection due diligence process, or vendor selection.
What is covered by a 3(38) fiduciary?
The duties of a 3(38) are set by the Employee Retirement Income Security Act of 1974 (referred to as ERISA) and interpretations and additions regarding the execution of the ERISA law come from the Department of Labor.  Further still, a Plan Document can define and clarify additional rules and implementations of the law. So in many cases, a 3(38) fiduciary for a participant-directed plan provides the following on defined intervals:
Create and manage an Investment Policy Statement

Form an Investment Committee

Hold investment committee meetings

Prudently select plan investment options

Report on investments regularly

Benchmark investments

Replace funds and update models as needed
Should my company have a 3(38) fiduciary?
Even more than for the sake of mitigating risk, outsourcing the role of an investment manager can dramatically reduce an employer's workload and cost on a 401(k) plan. Additionally, like with any job, there are tools and experience in the skill set that makes the plan more effective and cost-efficient.
An effective investment manager will make sure that investment lineups are cost-effective, prudent, diversified, and competitive.
InStep® Menu of Services and Fee Schedule
| ASSET-BASED FEES | BASED ON PLAN AUM |
| --- | --- |
| Investment Management Services | 50 BPS |
| Fiduciary Services | 10 BPS |
| SERVICE-BASED FEES | FLAT SERVICE FEE |
| --- | --- |
| Investment Policy Statement Development | $ 2,000.0 |
| Investment Policy Statement Review/Update | $ 500.00 |
| Plan Design Consulting | $ 2,000.00 |
| Fund Menu Design | $ 1,000.00 |
| Fund Performance Audit | $ 1,000.00 |
| Education Program Strategy | $ 2,000.00 |
| Fiduciary Training for Committee | $ 2,000.00 |
| Group Employee Meetings | $ 1,500.00 |
| One-On-One Employee Meetings | $ 500.00 |
| Other Specialized Committee Training | Varies |
| VENDOR MANAGEMENT SERVICES | FLAT SERVICE FEE |
| --- | --- |
| Recordkeeper Fee / Service Review or Benchmarking | $ 2,000.00 |
| TPA Vendor Fee / Service Review or Benchmarking | $ 2,000.00 |
| Vendor Management/Issue Resolution | Varies |
| Vendor Search | $ 6,000.00 |
| Vendor Transition Support | $ 4,000.00 |
| Fiduciary Training for Committee | $ 2,000.00 |
| Group Employee Meetings | $ 1,500.00 |
| One-On-One Employee Meetings | $ 500.00 |
| Other Specialized Committee Training | Varies |
| OTHER | |
| --- | --- |
| Compliance Oversight | Varies |
| Employee Stock Ownership Plan (ESOP) Consulting | Varies |
| HSA Consulting | Varies |