In the
Organize
step, we start with education and documentation and reviewing salient parts of the audit. By knowing and following the rules, sponsors and their 401(k) participants expectations are met. Understanding and acknowledging roles, avoiding and if needed, properly managing conflicts of interest and protecting client assets is key from the outset. These are the steps that are included in the Organize step:

Organize the Governing Documents
One of the foundations of the AIF® Prudent Practices® Handbook is to create and maintain a fiduciary file. The most common error in auditing a plan is a document from the below list that is either missing or was never created in the first place. Governing documents are essential so stakeholders know their roles and responsibilities so they can establish a set criteria of service requirements for the plan, enabling them to commit to procedural prudence for the life of the plan from the start. Some of the key documents that need to be in the fiduciary file are:
Summary Plan Document

Summary of Material Modifications

Investment Policy Statement (IPS)

Trust Document

Investment Committee Policies or By-laws

Spending Policy

Conflict of Interest Policy
All of InSight's clients follow this documenting format to preserve the integrity of the InStep® process
Organize People Into Roles and Responsibilities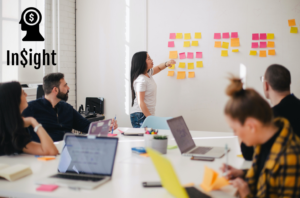 What should be obvious but is often overlooked is the simple question of "who is in a fiduciary role and who is not?". Think of the fiduciary as the basketball coach. That person is in charge and responsible for overseeing the whole game plan from the first practice to the championship. For them, getting everyone into the right role with the right tools is critical.
The next group to put a label on are the assistant coaches – in this case the investment committee. For the players to be successful, there should be clearly defined policies or by-laws – call this the game plan. The investment committee will be responsible for managing the portfolio. Our recommendation is using a blend of senior management, rank and file, and clerical workers to get a good mix of skills and perspectives. The best characteristics for members of the investment committee is to be objective, collaborative, and looking out for the interests of their co-workers first.
A few nonessential pointers that we find helpful are:
Have an odd number of members in case of a vote 

Make term limits that are long enough to matter, but short enough to keep new ideas 

Make participation a noteworthy commitment in your office communique
Avoiding and Managing Conflicts of Interest
This might sound scary, but it's really not. If there is anything that prohibits you from being completely objective or if you believe there is a conflict of interest then just avoid it. There are several work arounds, different investments, and options that will enable you to avoid the conflict completely. An easy early first step is to draft a conflict of interest policy at the beginning, before a circumstance arises, so that the remedy is already determined.  
Here's a quick drill for you and your team:
Susan has worked for your firm for several years, she has since gone to part time. She sells insurance and financial advice on the side providing your office much needed seasonal bookkeeping. She was very well liked at your firm, and people would like her to stay on the investment committee to act as the investment advisor since she knows the mutual fund industry even better now at her insurance practice. 
Questions:
Can Susan serve as both an investment committee member and the investment advisor?
What process should be followed in replacing the current investment advisor?
Answer:
While it is not outright illegal for Susan to act as both the investment advisor and an investment committee member, it will pose an immediate conflict of interest. It would be easier to justify if Susan chose one role or the other. In regards to the change the committee may make to find and alternate advisor, the group should go through a proper vetting process in order to be as objective as possible about Susan's services as an advisor (should she choose to relinquish her role on the board). 
Safeguard Client Assets
In the organize step, it's important to remind the investment committee members that every dollar that enters the plan is part of their purview, not just the dollars that are invested on their behalf. Under ERISA, service providers MUST deliver:
A description of services

Status as a fiduciary or registered investment advisor

Receipt of direct and indirect compensation
There are some simple policies you can put into place that will go a long way to exhibit cost control, create a culture of compliance, and ensure the money paid out in fees is "reasonable." Six practices all InStep® clients confirm are address in their plan are:
Include all disclosures on all service agreements in the fiduciary file.

Establish a written cadence to regularly review vendor contracts at least every three years or more if changes in the law exist.

Qualified plan assets should be held in a viable judicial system, the ability to seize assets if there is a suspicion of mismanagement is critical. 

All plan sponsors must have a fidelity bond to protect from theft of the assets.

Require custodians have insurance, internal controls, and physical security measures for any asset in their custody. 

Plan assets and data must have documented for security against cyber threats.
Organization is key to any successful process which is why we stress the above elements for our InStep® clients. Being able to determine from the start the answer to some of these strategies above will save time, energy, and money.