The squeeze in commercial real estate in the office group is causing a challenging situation faced by owners of office buildings who need to refinance their loans amid a record-high vacancy period. As a result of the COVID-19 pandemic, many businesses have shifted to remote work, which has led to a decrease in demand for office space. This has caused vacancy rates in commercial real estate to reach record highs in many cities.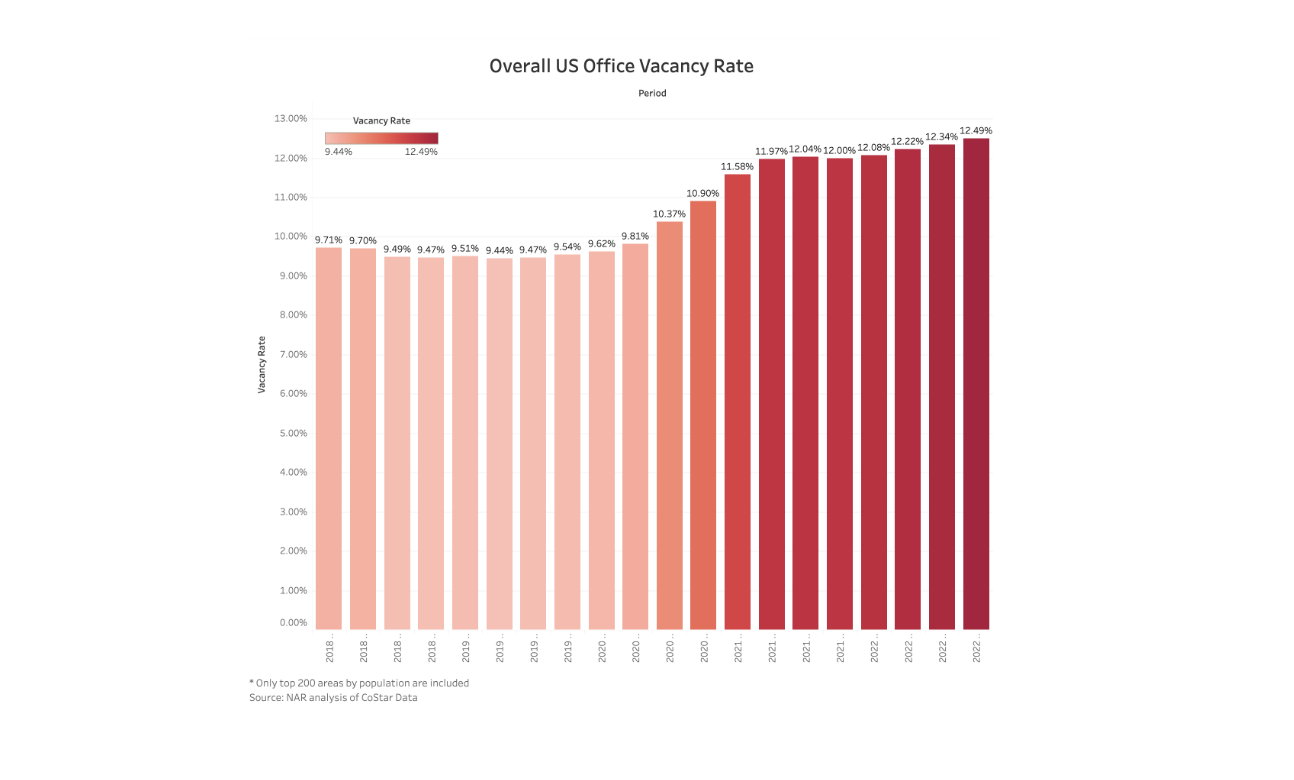 When owners of commercial properties need to refinance their loans, they must provide proof of occupancy rates and rental income to lenders. With the high vacancy rates, it may be difficult for owners to meet the lender's requirements, which could lead to higher interest rates or even the inability to secure financing.
The cost of borrowing money in the US has gone up a lot in the past year. This has caused big problems for banks and could cause problems for owners of commercial real estate, which means buildings used for businesses. They might have trouble getting new loans to pay for old ones that are due soon. A lot of money, almost $450 billion, is due to be paid back in 2023. This is happening because the Federal Reserve, which is a group that controls the money in the US, raised the cost of borrowing money from almost nothing to 5%, which is the biggest increase in a long time.
With nearly $450 billion in commercial real-estate debt set to mature in 2023 – meaning a final payment on those loans are due, per data cited from Trepp by JPMorgan. This situation may cause a fire sale in the commercial real estate market because more distressed sellers may enter the market, looking to offload their properties quickly. This increase in supply, coupled with decreased demand, may lead to a drop in property values and lower selling prices.
What does this mean for investors in traditional REITs and Real Estate Mutual Funds:
A vicious cycle can occur in mutual funds and real estate investment trusts (REIT) within the fund underperforms, leading investors to redeem their shares. This can cause a chain reaction where more and more investors exit the mutual fund or the REIT, which can lead to a further decline in performance.
When a mutual fund invests in a REIT, it purchases shares in a company that owns and manages real estate assets. The performance of the REIT depends on the value of these assets and the ability of the company to generate income from them. If the assets decline in value or the company is unable to generate sufficient income, the REIT's performance may suffer.
If the REIT underperforms, investors may become dissatisfied with the mutual fund's overall returns and may choose to redeem their shares. This can cause a reduction in the assets under management of the mutual fund, which may force the fund manager to sell off some of the REIT shares to meet the redemption requests. If this selling pressure exceeds the demand for the REIT shares, it can further decrease the value of the shares, causing more investors to redeem their shares and leading to a further decline in performance.
This cycle of poor performance, redemptions, and a further decline in performance can continue until the mutual fund or the REIT is no longer viable, and the investment is liquidated. To avoid this cycle, investors should carefully evaluate the performance of the REIT within the mutual fund and consider the long-term potential of the underlying real estate assets before investing. Additionally, investors should have a long-term investment horizon and avoid making impulsive investment decisions based on short-term market movements.
It's already having an effect on one of the most high-profile REITs
Currently, Blackstone has suspended the redemption program for BREIT, meaning that investors are unable to sell their shares at this time. This decision was made in response to the economic uncertainty caused by the COVID-19 pandemic, as Blackstone believed that selling assets in the current market would result in losses for investors.
The effect of this decision is that investors who were planning to redeem their shares in the near future will have to wait until the redemption program resumes. This could cause financial hardship for some investors who may have relied on these funds for liquidity or other financial obligations.
However, it's worth noting that the suspension of the redemption program is a temporary measure, and Blackstone has stated that they will resume redemptions as soon as they believe it is in the best interest of investors. In the meantime, investors can continue to receive dividends from their shares in BREIT, which may provide some financial relief.
What does this mean for the coming "Fire sale" on Office Properties?
Furthermore, as more distressed sellers enter the market, it could create a downward spiral in property values, leading to further distress in the market. This could cause lenders to tighten their lending criteria even further, making it even more difficult for owners to refinance their loans.
If there is a fire sale in office properties in 2024 and 2025, prepared investors may be able to take advantage of the situation by following these strategies:
Be Ready with Cash: Prepared investors should have cash available to take advantage of the potential buying opportunity. With cash in hand, investors can quickly make an offer on a property and close the deal without the need for financing.
Conduct Due Diligence: Before investing in any property, it's important to conduct thorough due diligence. This involves analyzing the property's financial performance, tenant mix, location, and potential for appreciation. Prepared investors should conduct their due diligence in advance so that they are ready to move quickly when the opportunity arises.
Look for Distressed Assets: A fire sale often involves distressed assets, which are properties that are being sold due to financial difficulties. Prepared investors should look for distressed assets that have the potential for appreciation and can be turned around with some investment and management.
Negotiate a Good Price: In a fire sale, the seller may be motivated to sell quickly, which can provide an opportunity for prepared investors to negotiate a good price. Investors should be aware of the current market conditions and the true value of the property to ensure they are getting a fair price.
Have a Long-term Investment Strategy: Investing in office properties requires a long-term investment strategy. Prepared investors should have a clear plan for how they will manage and improve the property over time to maximize their return on investment.
Overall, the squeeze in commercial real estate in the office's group could have significant impacts on the industry and the broader economy. It may take some time for the market to adjust to the new normal of remote work, and it remains to be seen how long the high vacancy rates will persist.